Gianluca Cornetta
H2020 NEWTON Project Principal Researcher
I am an associate professor at San Pablo-CEU University (Madrid, Spain) where I teach several subjects in the area of electronics and computer architecture. I am one of the coordinators of NEWTON a EU founded project with grant n. 688503 within the HORIZON 2020 programme. The project started in March 2016 and is scheduled to end in February 2019.
NEWTON is an integrated action involving 14 academic and industrial partners of 7 European countries. The main project goal is developing a novel e-learning platform integrating several state-of-the-art web and cloud technologies to deliver to its end users learning contents and tools through several media and to improve both learning and teaching experience of STEM (Science, Technology, Engineering and Mathematics) subjects.
NEWTON encompasses several hot topics in education including gamification, virtual labs and fab labs and targets several learners profiles from secondary school to vocational and higher education. If you want to learn more about NEWTON project and know the latest news, you can visit the project official website by clicking on this link.
The tasks of my R&D team within the NEWTON project are the following:
To develop the hardware and software infrastructure to expose a fab lab over the internet as a web service.

To develop inter and intra fab lab communication protocols that allow several fab labs to communicate through a cloud hub and to manage in real time distributed fabrication batches.

To develop nonformal teaching and learning contents that leverage the NEWTON fab lab infrastructure to increase the learners appeal for STEM subject through prototyping and learning by doing.
What is a Fab Lab
A fab lab is a small workshop formed by digitally-controlled fabrication machines, i.e. CNC milling machines, laser cutters, vinyl cutters and 3D printers that is gaining an ever increasing worldwide consensus as a power tool to implement new collaborative teaching methodologies based on experimentation and learning by doing.
The number of fab labs is exponentially growing and there are 1.186 such labs all over the world as of october 2017. The major limitation of a fab lab is its high start-up cost (the cost of a very basic deployment may exceed $ 200.000) which can not be afforded by the great majority of educational institution (especially High Schools). One of the major goals of the NEWTON Project is providing to individuals and institutions the possibility to remotely access expensive digital fabrication resources through web interfaces integrated in the NEWTON platform. This, in turn, entails the development of a new concept that we call Fabrication as a Service (FaaS) which leverages cloud technologies and a complex (yet affordable) hardware and software
The NEWTON Team at CEU
The CEU NEWTON team is a multidisciplinary group dealing with several aspects of research and development including cloud architectures and networking, real-time distributed embedded systems, IoT, digital fabrication and innovation in teaching.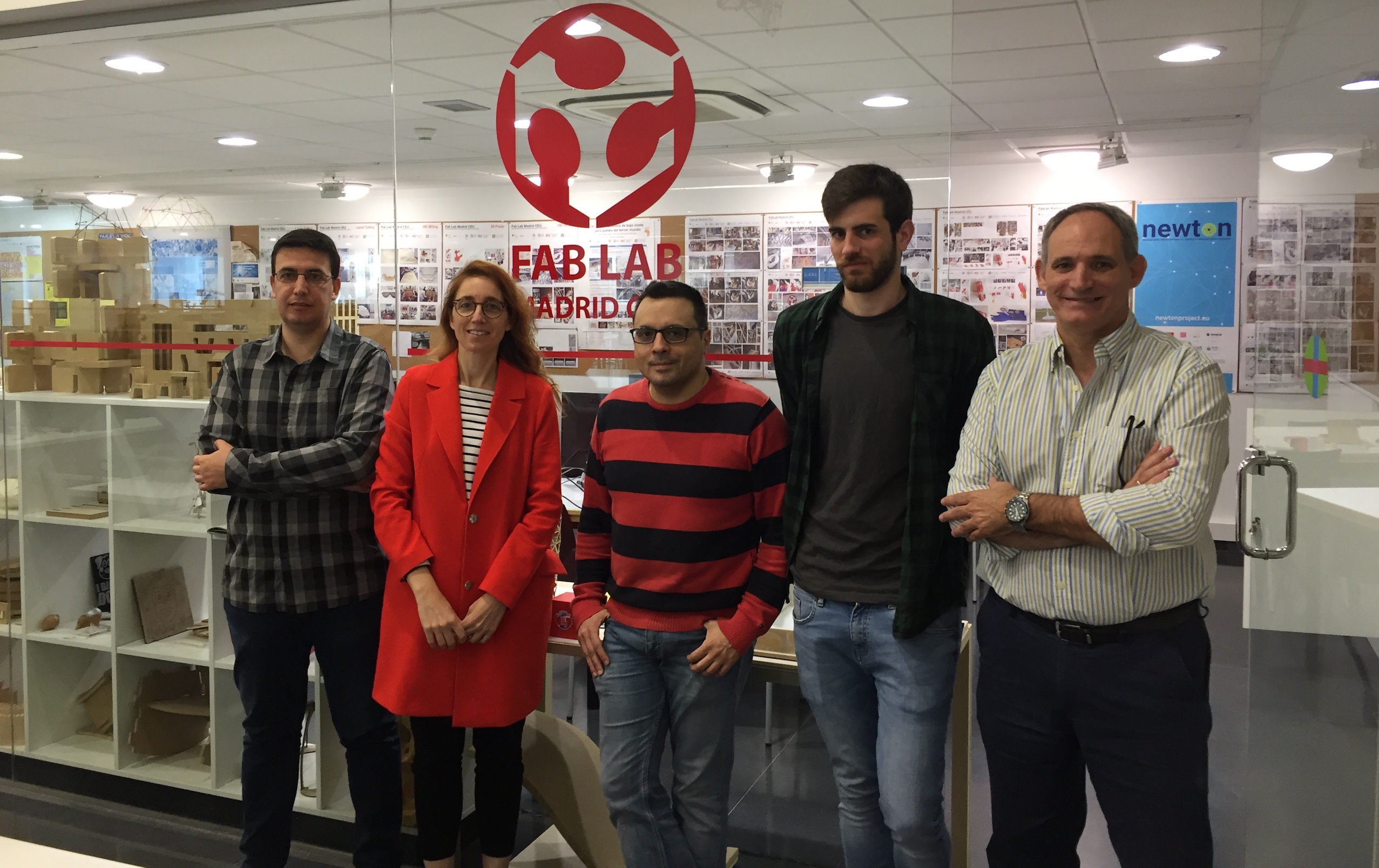 The NEWTON Team at CEU (from left to right: Mr. Epifanio Lorenzo, Prof. Covadonga Lorenzo, Prof. Gianluca Cornetta, Mr. Javier Mateos, and Prof. Teodoro Rojo)
The group so far has five members:
Prof. Gianluca Cornetta: System architect and principal programmer.

Prof. Teodoro Rojo: Network architect.

Prof. Covadonga Lorenzo: CEU fab lab directress.

Mr. Epifanio Lorenzo: CEU fab lab manager.

Mr. Javier Mateos: Programmer.